A'Lelia Walker was born 134 years ago today on June 6, 1885.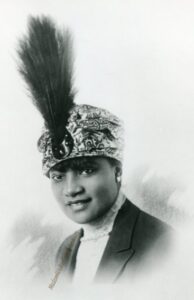 I've written a lot about her since I began researching her life during my senior year in high school fifty years ago. I won't rehash the basic biographical information, which you can find in my book, On Her Own Ground: The Life and Times of Madam C. J. Walker, and in blog articles like "A'Lelia Walker's 1924 Visit to Atlantic City" and "A'Lelia Walker Meets Ethiopian Empress Zauditu" on my website.
What I'd like to do today in celebration of her birthday is talk about the person I've discovered through extensive research – including her personal correspondence and other primary source documents – rather than the caricature that a number of authors have created.
First and foremost, she will always be known as the daughter of Madam C. J. Walker, the early 20th century hair care entrepreneur and philanthropist. But she also was her own person with interests, personality traits, likes, dislikes and a fascinating circle of friends.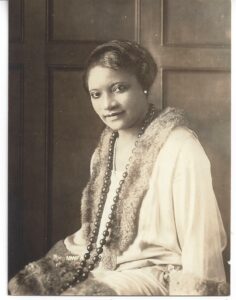 More than I knew when I wrote On Her Own Ground twenty years ago, she was very much a patron of the arts with her own strong passion for music and art that began when she was growing up in St. Louis during the ragtime era of the 1890s. She traveled internationally and understood current events and the politics of Jim Crow. She had an impresario's instinct for staging extravagant events.
She was a fashion trendsetter with a sharp eye for design. Her parties helped define the Harlem Renaissance. Her Dark Tower cultural salon was legendary. While she was less directly engaged than her mother in causes like the anti-lynching and women's club movements, she raised money for community and social service organizations.
How Other Authors Viewed A'Lelia Walker
My literary introduction to A'Lelia Walker was through Langston Hughes's The Big Sea, in which he famously proclaimed her death in August 1931 to be the end of an era. "That was really the end of the gay times of the New Negro era in Harlem," he wrote. It is Hughes who anointed her "the joy goddess of Harlem's 1920s" because of her parties and her room-filling personality.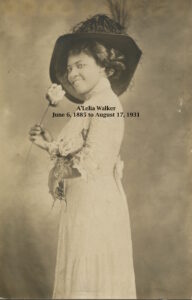 What I have discovered after decades of research, however, is that several other authors who did not know her have repeated second hand, inaccurate and entirely fabricated stories about her. It's hard to resist wondering if some of them have a need to project a story line onto her life. In their speculation and their failure to do original research, they have relied upon stereotypes and clichés about what they imagine A'Lelia Walker might have done.
I very much admire David Levering Lewis's Pulitzer Prize-winning scholarship on W.E.B. DuBois, but his description of A'Lelia Walker in his widely read When Harlem Was in Vogue set the stage for a great deal of misinformation about her. Just as I discovered while doing research for my four Madam Walker books, I have encountered the same fictionalization of A'Lelia Walker while researching The Joy Goddess of Harlem: A'Lelia Walker and the Harlem Renaissance (forthcoming from Scribner). In all her complexity and contradictions, A'Lelia Walker is an original who needs no embellishment.
I won't address all the myths today, but here are three of the most glaring.
The Myth of A'Lelia Walker's Short Attention Span
In 1982 Lewis wrote: "Her intellectual powers were slight. After seven minutes, conversation went precipitously downhill, but those first seven minutes were usually quite creditable." Among the many authors who have mentioned A'Lelia Walker since then, Steven Watson perpetuated this myth in his 1995 book, The Harlem Renaissance, when he wrote: "One acquaintance cattily declared seven minutes to be her limit for elevated conversation."
I've always found this claim odd. During the early 1980s, I had the good fortune of interviewing a dozen or so of A'Lelia Walker's octogenarian and nonagenarian friends who regaled me with stories of their social gatherings and travels. To a person, they described A'Lelia's attention to detail for the elegant parties she orchestrated. I know from her letters how focused she could be when she cared about something. I can't help but wonder if, by chance, someone actually said she had a seven-minute attention span, that that person may have been someone she didn't like or with whom she didn't wish to have a conversation. She could be like that when she wanted to.
The Myth that A'Lelia Walker Didn't Read Books
Watson seems to have started this rumor when he wrote: "Although she supported Harlem culture, she had little interest in intellectual talk and rarely read books." More recently Saidiya Hartman paraphrased Watson and others in her 2019 book when she wrote: "[S]he financed the Dark Tower, a literary salon in her palatial home of thirty rooms, although it was rumored that she never read books, only supported their authors." (The Dark Tower, by the way, was in A'Lelia Walker's 136th Street townhouse rather than in Villa Lewaro, her Irvington, New York mansion.) Neither Watson or Hartman cites a source for this claim.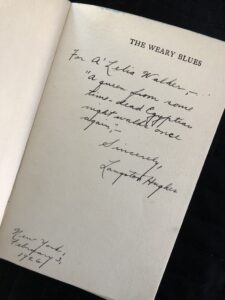 In fact, I have many books from A'Lelia Walker's personal library, including an autographed copy of Langston Hughes's The Weary Blues. I also have personal correspondence in which she thanks friends for books they have sent her and talks about how much she loves to read.
The Myth that Grace Nail Johnson Wouldn't Socialize with A'Lelia Walker
One of the most memorable passages in Lewis's When Harlem Was in Vogue is this: "Not everybody pined for an invitation to her brownstones and her country place. Grace Nail Johnson, the wife of James Weldon Johnson and 'social dictator' of Harlem, would as soon have done the Black Bottom on Lenox Avenue as cross A'Lelia's threshold."
These sentences have taken on a life of their own in Harlem Renaissance lore and been accepted as factual by readers and authors who have interpreted it to mean that A'Lelia Walker was shunned by Grace Nail Johnson and Harlem's black elite.
In August 1999 Sondra Kathryn Wilson, the executor of the Johnson estate, told me in an email message that Mrs. Johnson was quite upset about this portrayal.
"It's a lie," she told Dr. Grace Sims Okala, her adopted daughter, in an interview recorded some years earlier by Wilson. "Grace and Jim considered the older Mrs. Walker as their friend. Grace often said that the elder Mrs. Walker and her father had similar backgrounds…Grace and Jim didn't attend a lot of parties. Jim traveled a lot. He was gone so much and when he was home, he was writing. Grace and Jim preferred small dinner parties. If Grace didn't attend the younger Ms. Walker's parties, it had nothing to do with Ms. Walker. I know she wouldn't attend a party if Jim was away. She wouldn't have gone to Mrs. Walker's or any other party alone."
And I know from A'Lelia Walker's correspondence – including an invitation for an event that lists both A'Lelia Walker and Grace Nail Johnson as hosts – that the speculation about their estrangement is inaccurate. Among other things, the spirit and implication of the story are contradicted by what society columnist Gerri Major, singer Alberta Hunter, artist Romare Bearden and many others told me about A'Lelia Walker during the 1980s.
There is so much more to say about my great-great-grandmother and namesake. Stay tuned for The Joy Goddess of Harlem.