On Sunday morning, May 25, 1919 – exactly 100 years ago this weekend – Madam C. J. Walker died at Villa Lewaro, her Irvington-on-Hudson, New York estate.
A few hours later in black churches across America, ministers talked of her journey from deep poverty in the cotton fields of Delta, Louisiana to president of the international Madam C. J. Walker Manufacturing Company. It was such big news that the announcement also was made at a Negro League baseball game in Chicago that afternoon.
She was born Sarah Breedlove on December 23, 1867 on the same plantation where her parents and older siblings had been enslaved before the end of the Civil War. The first child in her family born into freedom, she would become a millionaire who bequeathed more than $100,000 to her community, including $5,000 to the NAACP's anti-lynching fund.
By providing job opportunities for the nearly 20,000 sales agents and beauty culturists who sold her Wonderful Hair Grower, she helped them become economically independent. She used her wealth and influence as a philanthropist, patron of the arts and political activist to support black institutions and organizations.
At her 1917 national convention, she told the delegates that their "first duty" as Walker associates "was to humanity." During the final session, she and her agents dispatched a telegram to President Woodrow Wilson urging him to support legislation to make lynching a federal crime.
Madam Walker's funeral on May 30 was a dignified gathering with pallbearers who represented black America's most prominent civil rights, business and religious leaders. Walker Company employees and agents filed quietly and reverently past her casket in the music room at Villa Lewaro as J. Rosamond Johnson sang "Since You Went Away," the spiritual he had composed with his brother, James Weldon Johnson.
This year as we observe the centennial of Madam Walker's death, there is much to remind us of the powerful inspiration her legacy still provides.
Throughout 2019 and 2020 we'll celebrate with several events including
*the launch of new products in Sundial's MCJW hair care line at Sephora.com
*the re-opening of the renovated Madam Walker Legacy Center in Indianapolis
*the September 19 opening of a Madam Walker exhibition at the Indiana Historical Society in Indianapolis
*the renaming this summer of 136th Street between Lenox and Seventh Avenue in Harlem
*the digitization of 40,000 items from the Madam Walker Collection of letters, photographs, business records and ephemera at the Indiana Historical Society
This spring we've already had help celebrating with
*a featured segment about Madam Walker in Stanley Nelson's PBS documentary, "BOSS: The Black Experience in Business"
*Harlem Eat Up Luminary Award to Madam Walker
*"What Madam Taught Us" in the May issue of Essence
*AAIHS's five-part Black Perspectives blog forum with articles by scholars who bring new perspectives on Madam Walker's life
*Our interview with Georgia Public Broadcasting's Morning Edition host Leah Fleming
ABC News Now's segment about Villa Lewaro
Ronda Racha Penrice's NBC BLK feature on Madam Walker
During the last four decades in my role as Madam Walker's biographer, it has been a joy for me to share her story with a range of audiences from elementary school students and Harvard Business School classes to corporate CEOs and women in the college course at Bedford Hills Correctional Facility.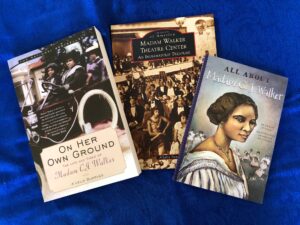 I'm grateful that my book, On Her Own Ground: The Life and Times of Madam C. J. Walker (Scribner/Lisa Drew 2001), is considered the most reliable source for accurate information about Madam Walker and that elementary school students can learn about her in All About Madam C. J. Walker (Cardinal/Blue River Press 2018).
Knowing that Villa Lewaro soon will become a think tank for women of color entrepreneurs under the auspices of the New Voices Foundation brings the story full circle just as Madam Walker dreamed when she moved into the house in 1918.
Follow us on Twitter at @aleliabundles @mcjwbeauty @madamcjwalker
Follow us on Instagram at @aleliabundles @mcjwbeauty
A'Lelia Bundles is Madam C. J. Walker's great-great-granddaughter and biographer.